Speculation has long swirled about exactly what is on top of the presidents head the answer may be less than meets the eye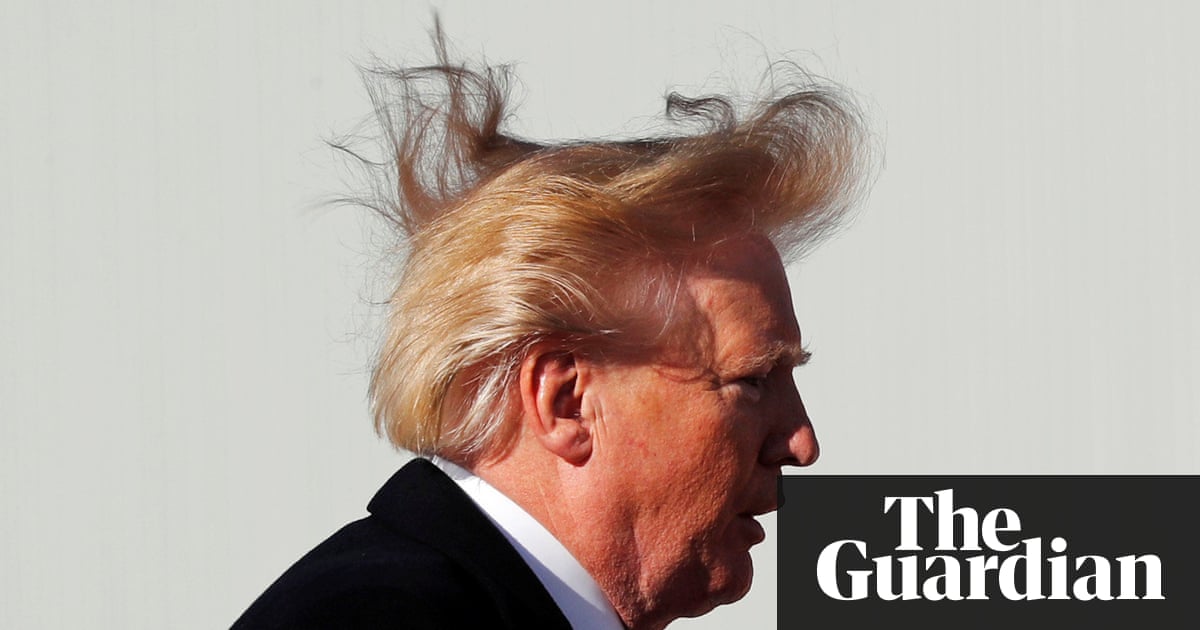 Hair-raising moment: blustery wind lifts lid on mystery of Donald Trump's mane
Speculation has long swirled about exactly what is on top of the presidents head the answer may be less than meets the eye
As Donald Trump wages war with Democrats over a budget deal, a video has emerged highlighting another battle the fight the presidents hair is waging to stay attached to his head.
Footage, widely shared on Wednesday, showed Trumps hair being dramatically swept about in a blustery wind, revealing what appeared to be a large hairless patch at the rear of his head and adding to longstanding speculation about the exact nature of Trumps mane.
The film was captured as Trump boarded Air Force One. As Trump clambers up the stairs to the aircraft he appears to be struck from behind by a forceful gust. The wind cleaves his hair in two, revealing what appears to be a bare scalp.
Dr Alan Bauman, CEO and founder of Bauman Medical, a hair restoration clinic, said Trump had probably undergone some sort of hair procedure, although Bauman added that the video could have been doctored.
In my professional opinion I do believe he has had some previous hair transplantation to the frontal part of his hairline, Bauman said.
He probably also has access to potent prescription topical medication like Formula 82M Minoxidil, which would be used twice daily, or a laser therapy cap, which could easily be hidden underneath a baseball hat.
A laser therapy cap is a device that subjects the scalp to laser beams in an attempt to promote hair growth.
Bauman said he had met Trump personally and believed the presidents hair is firmly growing from his scalp and is not a hairpiece.
He does, however, use quite a bit of hairspray to maintain his preferred style, Bauman said.
The White House did not immediately respond to a request for information.
Trumps hair has long been the subject of speculation and ridicule. The Michael Wolff book Fire and Fury reported that Trumps daughter Ivanka Trump is among the hairs critics.
Ivanka often described the mechanics behind it to friends, Wolff wrote.
An absolutely clean pate a contained island after scalp reduction surgery surrounded by a furry circle of hair around the sides and front, from which all ends are drawn up to meet in the center then swept back and secured by a stiffening spray.
Trump has occasionally addressed the issue himself. At a campaign rally in August 2015, shortly after Trump had denounced Mexican people seeking immigration to the US as rapists, he promised to put the issue of his hair to bed.
If it rains, Ill take off my hat, and Ill prove once and for all that its mine, Trump told a crowd in Alabama.
A month earlier the then candidate had promised to change his signature hairstyle if elected.
I would probably comb my hair back. Why? Because this thing is too hard to comb, Trump said at an event in Winterset, Iowa. I wouldnt have time, because if I were in the White House, Id be working my ass off.
The promises are among a number of campaign pledges that are yet to be fulfilled.
Read more: https://www.theguardian.com/us-news/2018/feb/07/donald-trump-hair-wind